As I'm writing this I'm also texting with my best friend's mom about decorating her senior parking space tomorrow night. My best friend Katherine, a year younger than I & her graduating class of 2019 are about to begin their senior year which feels like just yesterday but also an eternity. It's the weirdest feeling in the world, as a year ago today I was finishing my back to school shopping, celebrating my last full day of summer and in a completely different mental state than I am now.
I don't want to write a cheesy "Letters To My Senior Year Self" post. I don't want it to be the kind of cheesy tweet style that goes viral on Twitter. I don't want to be obnoxious or basic. But I just want to be honest. (Hey #doyourtruth has had a profound impact on me.)
The word that comes to mind when I reflect back to the beginning of senior year: striving. I was striving to do it all, to be it all, to have it all and want it all. I was unsure of the direction and college God was leading me to. I was surrounded by a swirling mess of life. I wanted to get in to every school. I was working so hard to achieve an unrealistic health standard that ultimately failed both me and my mental health. I wanted my planner to be completely color-coded, completely full and completely and totally busy. Striving. This year doesn't have to be perfect, the way you imagine it to be or amazing to be memorable. I wish I could tell my senior self: Stop. Look around. Smell The Roses. Enjoy the little moments that you love so much.
Savor every second of this crazy year where there are tons of traditons, tons of tears, tons of laughing and tons of good moments. However unlike the tweets, my favorite highschool moments weren't in the stands at football games, they were the random ones: rapping Ice Ice Baby in the middle of the dance floor with my best friend, the bus ride to Passion conference on New years day after spending the entire night of New Years Eve together, long car drives to find random barbecue places, firepit nights with my circle & the simplicity of sitting under a Carolina blue sky with my people during lunch.
Those are the memories I know I'm not going to live in every day and those are the ones I hold onto so dang dearly.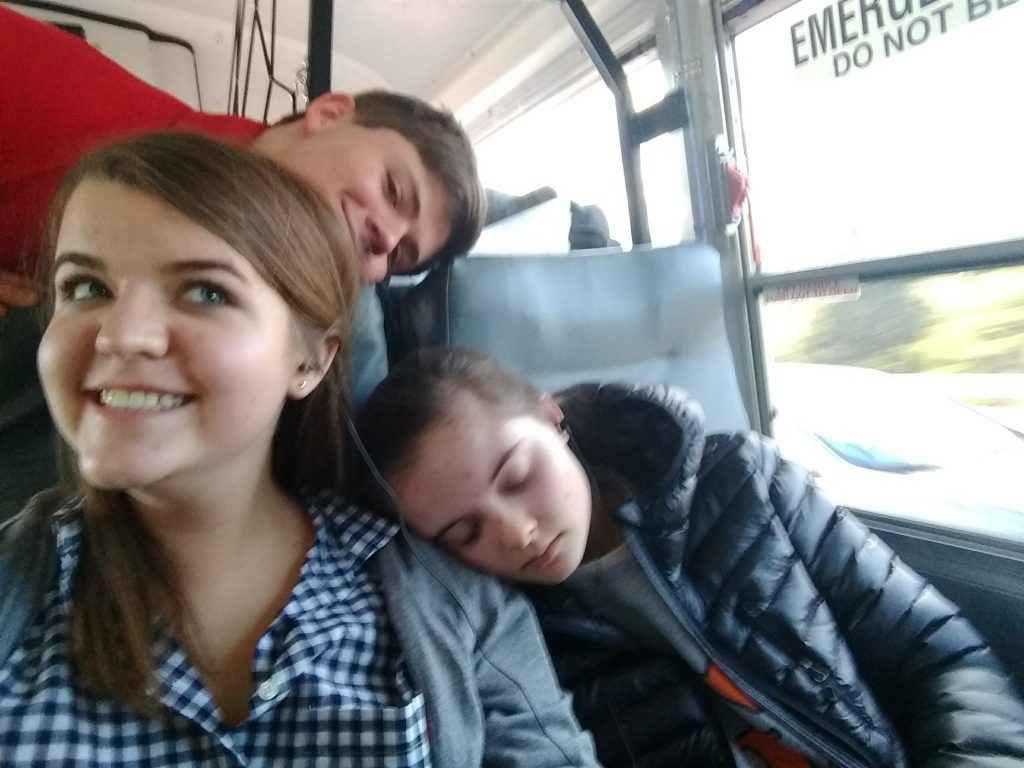 This Friday is my friend group's last fire pit night, a tradition we've kept almost all of high school & it absolutely breaks my heart knowing that fire pit night won't happen again until November. My people are my people regardless where they are.
Senior year may not have been the thing you see in the movies, but I wouldn't trade these people for the world. And I'm actually really really lucky. Talking to a few people from my college they all have said they don't really have any lifelong high school friends. But oh my lordy my people, all going to different schools and different places, they'll be there.
I don't want to look back on senior year with rose colored lenses. I don't want to say it's the best year of your life or that I wish I could go back and relive it. I don't.
Life is going to be amazing, when it is amazing. And when it's going to be hard, guess what, it's going to be crying in your car on the way home from school level hard. But that's life.
And while my friends made fun of me for taking 20 billion pictures I don't regret any of them for a second.
Take all of the pictures, tell your friends you love them constantly, do all the things, but don't live in a state of striving. Savor it all, but don't strive for the "Senya year" that VSCO or Instagram makes you think it should be.
"Be where your feet are" – you guessed it, Hannah Brencher
xo
Mags