This post should really be called: "Where in the world has been Maggie Royce??" because that is exactly how I feel. October has been a whirlwind: a lot of traveling, a lot of going and a lot of laughter. And with that, not a lot of blogging and not a lot of sleep.
Every weekend we had something: fall break, parents weekend, Halloween & UNC campout weekend. That means it has been a season of so many smiles and selfies but also just chaos.
Instead of recapping absolutely everything which would take surely too much time I'll keep it pared down a bit.
Things I've been grateful for:
Intentional Time with my people: whether that's sharing meals or afternoon nature walks after a study filled Saturday (see picture below) I've been making sure to treasure my time with my people. I'm grateful for small group leaders who spend Friday afternoons with me over coffee & heart filled time. My "social" time with friends has been rich and full which sounds like I'm describing coffee… If you can't tell I've had A LOT of coffee. Whoops.
2) Any excuse to wear a silly outfit: Now this one is my favorite on the list. One of my biggest goals in going to college was to find some sort of balance between being a silly college student but also working hard. In a time where we are PACKED with work, we've had plenty of excuses to dress up. For Halloween, I dressed up as some sort of monster and then got s'mores with friends (Post Malone & 21 Savage, obviously.) Then this past Friday was tacky prom which is a lovely excuse to dress up as a dork with my hallmates and dance to 2000's pop music.
3) Wofford Companions: If you know me, I gush about Wofford Companions oh so often. It is one of my all-time favorite things in the world. We went Trick-or-Treating with our companions (I'm pictured with my buddy Jerome) and it was so much fun to be little kid again. They are the most positive, smiling friends I could have and I treasure my time with them.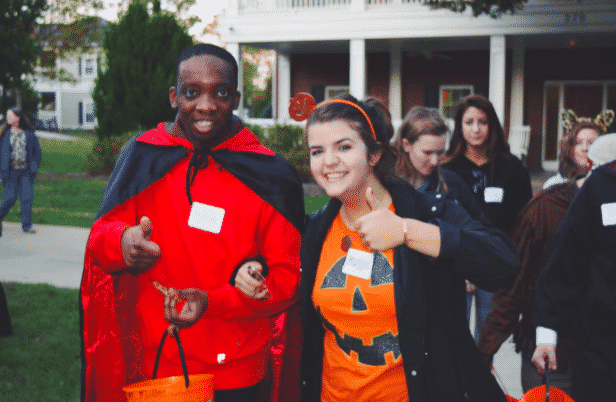 4) Wofford's Community & Traditions: As I mentioned in my NYC Recap, coming home from New York City is now one of my highlights of college. I couldn't tell you how much I love this place because it would take too long but oh my y'all, this place is so special to me. During Halloween week we had our annual pumpkin fest which is a day-long pumpkin carving party in the middle of campus and then they are lit up on the steps. Not only was carving fun but getting to watch them all light up was magical. Wofford's leaves are changing a bright yellow-y gold just like our school colors and when I say I love this place, I really really do.
5) Wofford Basketball!!! So, if you don't follow me on Twitter, 1) What are you doing?? 2) You have missed me absolutely gushing about my love for Wofford Men's Basketball. Seriously. Our basketball coach now follows me on Twitter because I love it so much! I go to a TINY school, that means everyone knows absolutely everyone. I'm not kidding when I say I know the guy's basketball Chick-Fil-A orders. I was actually laughing the other day because one of our star players was being featured on ESPN and I saw him & immediately regurgitated his order because he goes almost the same time as me everyday. The guys are just normal Wofford students who work way too hard & I go to Bible study with a bunch of them.
I have been excited about #beatunc week since I committed to Wofford back in March. Our unbelievable (very small, surprisingly division 1) basketball team beat the #5 team (UNC-Chapel Hill) last year which was the basketball team I always cheered for! This year there was a huge overnight campout with a lot of bonding in freezing cold weather to get tickets and then cheer on our Terriers! The game was absolutely crazy & we are so proud of how well the boy's played, I wouldn't trade the memories for anything!
I promise not to be as much of a stranger around here! Make sure you are following along on Instagram to see even more adventures
– Mags